Coordinators:
Jovelle Tamayo, Elaine Cromie, Mengwen Cao and Diana Diroy

Who dominates our world's visual narratives? By connecting photographers, filmmakers, documentarians, visual artists and decision makers from around the world, this network gathering will make space for dialogue, strategizing and community building between those who influence the way we see the world.
The gathering is open to the women, non-binary and transgender image-makers of color of the Authority Collective, which works to empower marginalized artists with resources and community, and to take action against systemic and individual abuses in the world of lens-based editorial, documentary and commercial visual work.
We will come together to build a support network, challenge colonial aesthetics, re-vision problematic visual narratives and expand our notions of success within the visual media industry.
Space is limited for all events, so please RSVP.
We are currently fundraising to support virtual programming for our members through
Allied Media Conference
. The money raised will go toward speaker fees and organizing costs, and any surplus funds will go back to the Authority Collective and its operating costs.
Tue, July 14, 2020
6-7 pm ET
3-4 pm PT
︎ RSVP
*Authority Collective members only

Join us as we kick off our network gathering and the Allied Media Conference! We miss seeing everyone in person, but are excited to connect online. We'll use this time to celebrate each other, get to know our fellow community members.🥳

Wed, July 15, 2020

6-7:30 pm ET
3-4:30 pm PT
︎ RSVP
*open to the public,
centering Authority Collective members & POC
What does the visual story look like when we apply what we have unlearned about traditional aesthetics to our photography and our films? How do we untangle the strings of colonization that control our framing and frame of mind? How do we use our work to re-vision problematic visual narratives and archive the voices of the people we collaborate with?

During this session, we will go beyond the "decolonize documentary" conversation, and highlight folx who are deviating from traditional frameworks in their practice. Featured speakers include Sophia Nahli Allison, who re-imagines the story of Latasha Harlins through an experimental documentary film; Xyza Cruz Bacani, who weaves her personal stories about her own migrant experience with her photography; Jalena Keane-Lee, who reclaims the Indigenous narrative through her recent film about Native Hawaiian mother-daughter activists; and Naima Green, who re-imagined Catherine Opie's "Dyke Deck," for her own "Pur·suit Deck," which features portraits of queer womxn, trans, non-binary, and gender-nonconforming people.

Each speaker will present their work, then come together for a roundtable discussion, before we open it up to attendees for an interactive strategy session.

How do we reimagine, reclaim and reshape our authority in visual media?
Xyza Cruz Bacani
is a Filipina author and photographer who uses her work to raise awareness about under-reported stories. Having worked as a second-generation domestic worker in Hong Kong for almost a decade, she is particularly interested in the intersection of labour migration and human rights. She is one of the Magnum Foundation Photography and Social Justice Fellows in 2015, has exhibited worldwide, and won awards in photography. She is also the recipient of a resolution passed by the Philippines House of Representatives in her honour, HR No.1969. Xyza is awarded as The Outstanding Women in The Nation's Service in Humanities 2019, Asia 21 Young Leaders (Class of 2018), the WMA Commission grantee in 2017, a Pulitzer Center and an Open Society Moving Walls 2017 grantee. She is one of the BBC's 100 Women of the World 2015, 30 Under 30 Women Photographers 2016, Forbes 30 Under 30 Asia 2016, Fujifilm ambassador and author of the book We Are Like Air.
Sophia Nahli Allison
is a black queer radical dreamer, experimental documentary filmmaker + photographer. She disrupts conventional documentary methods by reimagining the archives and excavating hidden truths. A meditation of the spirit, her work conjures ancestral memories to explore the intersection of fiction and non-fiction storytelling.
She is a 2020 United States Artists Fellow in Film and has held residencies at The MacDowell Colony, The Camargo Foundation in Cassis, France., The Center for Photography at Woodstock, and POV Spark's African Interactive Art Residency. Past projects have been featured on The New Yorker, The Atlantic, The Root, with Los Angeles Filmforum at MOCA, and more. Her short documentary A Love Song For Latasha premiered at the 2019 Tribeca Film Festival, the 2020 Sundance Film Festival, and received the Grand Jury Documentary Prize at AFI Fest, along with Best Documentary Short awards at the New Orleans Film Festival, BlackStar Film Festival, and more including an IDA Documentary Awards Nomination. She is currently working on her long term self portrait project Dreaming Gave Us Wings.
Jalena Keane-Lee
is a director, dp, and producer dedicated to decolonizing storytelling through uplifting underrepresented voices behind the scenes and in front of the camera. Jalena is the co-founder of
Breaktide Productions
, an all women of color video production company rooted in intersectional solidarity. They've carried out national video campaigns for brands like Nike and Thinx, their branded content has won two Cannes Lion awards — and in 2019, they were named to YBCA's 100 list of changemakers. Jalena produced a short film for Independent Lens and her films have screened at the UN, HIFF, CAAMFest, and LAAPFF and she has been supported by NeXt Doc, The Jacob Burns Creative Culture Fellowship, PIC, and Nia Tero.
Naima Green
is an artist and educator based between Brooklyn, NY and Mexico City, Mexico. She is the creator of Pur·suit, a deck of playing cards and forthcoming archive featuring queer womxn, trans, non-binary, and gender-nonconforming people. Green's work has been featured in exhibitions at the Smart Museum of Art, MASS MoCA, International Center of Photography, Houston Center for Photography, Bronx Museum, Gracie Mansion Conservancy, and the Studio Museum in Harlem. She has been an artist-in-residence at Recess, Mass MoCA, Pocoapoco, Bronx Museum, Vermont Studio Center, and is a recipient of the Myers Art Prize at Columbia University. She holds an MFA from ICP–Bard, an MA from Teachers College, Columbia University, and a BA from Barnard College. Her works are in the collections of MoMA Library, the International Center of Photography Library, Decker Library at MICA, National Gallery of Art, Leslie-Lohman Museum, Teachers College, Columbia University, and the Barnard College Library.
Wed, July 22, 2020
6-7:30 p.m. ET
3-4:30 p.m. PT
︎ RSVP

*open to the public,
centering Authority Collective members & POC
Two of the most significant moments in our history are happening right now. We are challenged physically, mentally and emotionally as we work and live through these times. How are we taking care of ourselves? Join us for a workshop dedicated to discussing our mental and emotional well-being and safety in 2020.

During this session we'll be guided by Boca Raton-based editorial photographer and educator, Andrea Sarcos, in a group yoga session. We'll hear from two photographers: Lynsey Weatherspoon, a photojournalist and portraitist based in Atlanta and Birmingham who has been documenting the movement to protect Black lives and protests against police brutality, racism and misogyny; and Rosem Morton in Baltimore, who has been documenting her experience working as a nurse during the Covid-19 pandemic.

Be prepared to focus your time and energy inward as we examine how our careers and work in the field affects us in many ways —especially in the midst of a global pandemic and civil uprisings.

We look forward to group yoga and breathing exercises, conversations, resource sharing as well as a breakout session to talk further about ways to protect ourselves during these uncertain times.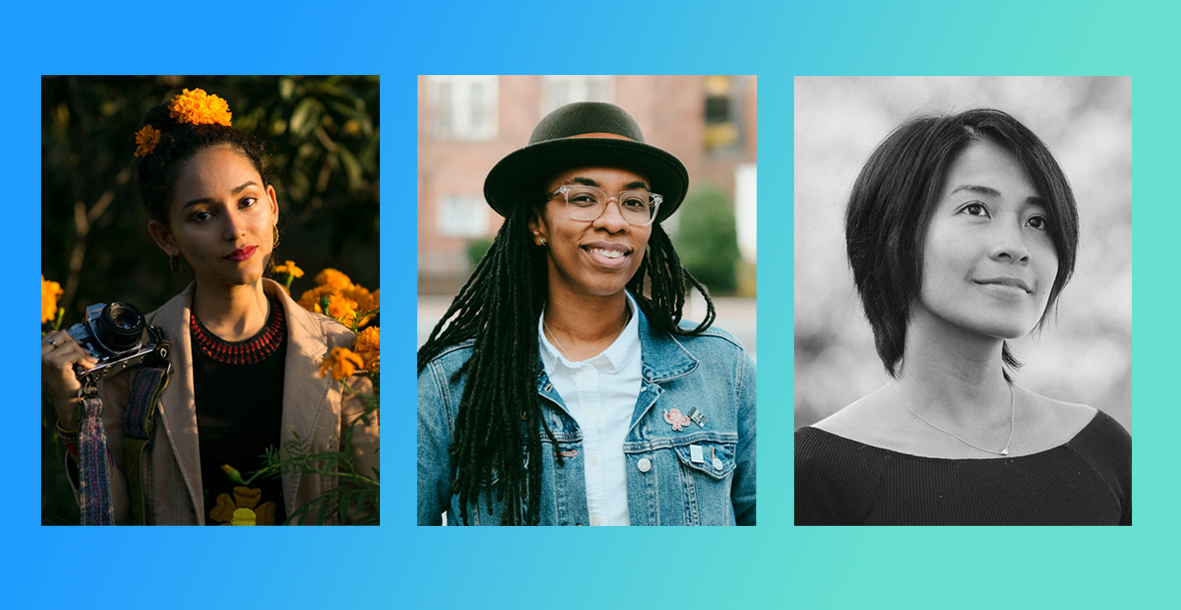 Andrea Sarcos
is a photographer and educator based in Boca Raton, Florida. She was born in Caracas, Venezuela, and moved to the U.S. when she was four. She graduated with a dual bachelors degree in creative photography and journalism from the University of Florida in 2015. She currently does freelance photo work and teaches photography to members of the Boys and Girls Clubs of Palm Beach County and teaches with National Geographic Student Expeditions in the summers abroad. Andrea loves to slackline and trained with the YogaSlackers in 2018 and became certified in teaching slacklining and acroyoga. She practices yoga and meditation most mornings to ground and find clarity, and dances at drum circles to connect with her spirit and ancestors.
Lynsey Weatherspoon
is a portrait and editorial photographer based in both Atlanta and Birmingham. Her work has appeared in The New York Times, USA Today, NPR, Wall Street Journal, Washington Post, Time, ESPN and ESPN-owned The Undefeated.The fingerprint of heritage can be found on assignments and personal projects featuring Black Lives Matter, Gullah Geechee culture, unsung players in the Negro Baseball League, and the last of dying breed – a shoe cobbler. Her work has been exhibited at The African American Museum in Philadelphia and Photoville NYC. She is an awardee, The Lit List, 2018. Her affiliations include Diversify Photo, Authority Collective, and Women Photograph.
Rosem Morton
is a documentary photographer and nurse based in Baltimore, Maryland. She is a National Geographic Explorer producing visual stories that focus on the intersection of health, trauma and resilience.
Sun, July 26, 2020
5:30 pm - 6:30 pm ET
2:30 pm - 3:30 pm PT
︎ RSVP
*Authority Collective members only

Let's gather once more before the Allied Media Conference officially ends! We'll share contact info, reflections and play a game.