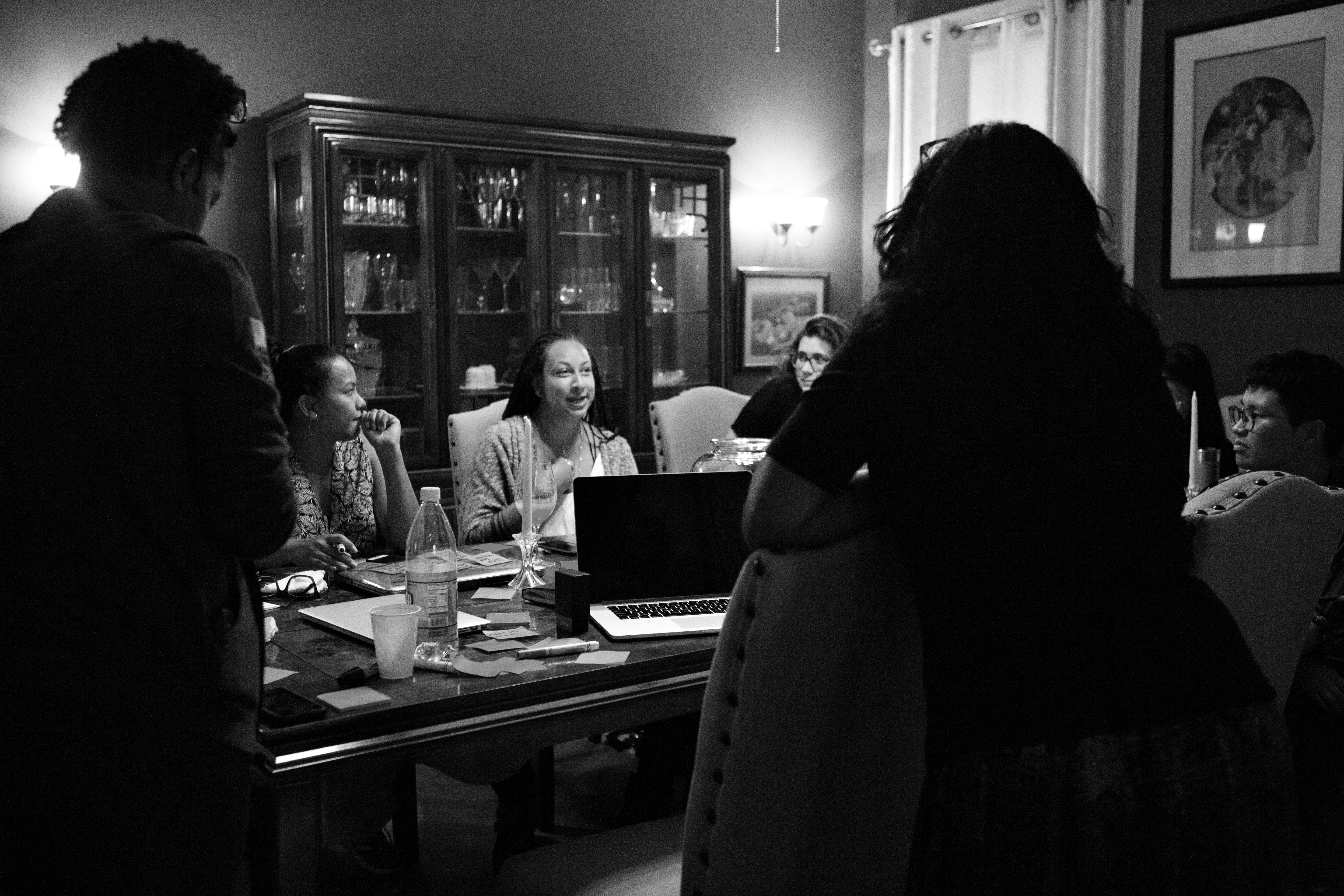 ︎ TABLE OF CONTENTS ︎

︎︎ ANTI-RACISM RESOURCES
︎︎OPPORTUNITIES CALENDAR
︎︎ READING LIST: EQUITY IN VISUAL MEDIA
︎︎ DATABASES & AFFINITY GROUPS

︎ ANTI-RACISM RESOURCES
This is meant to be
a living document
of resources for photographers and beyond on Anti-Racism.
Please email us at authoritycollective@gmail.com if you have more helpful resources to share.
︎OPPORTUNITIES CALENDAR
︎ READING LIST: EQUITY IN VISUAL MEDIA

Authority Collective Round-up of Must-reads from 2018
Ligaiya Romero's
Decolonizing Documentary and Journalism Reading List
Photojournalism lacks self-criticism and only the underdogs are willing to reshape its toxic culture
- "Photographers still portraying a western idea of how the 'other' should be represented are not only falling into their own clichés, but are not encouraging the industry to transform itself and for photographers to stand out with their own, personal voices."
Poynter,
Passion and persistence drive Nikole Hannah-Jones, a newly minted MacArthur genius
"My message is for newsroom management, not journalists of color, to ask them to really do some examination about if their stated goals are really their goals. It's the same thing I say about school segregation. If newsroom managers wanted diverse newsrooms, they'd have diverse newsrooms."
Nieman Reports, Tara Pixley on
Why We Need More Visual Journalists and Editors of Color
- "Through the professional ethics and practices of objectivity in journalism, we have consistently found ways to humanize most members of American society, from convicted rapists to murderous white supremacists. Depictions of black Americans rarely receive such treatment in news media, however, whether in images or the written word. We must commit to challenging all prevailing and easy narratives, affirming a desire to do both good, accurate, ethical storytelling and to take into consideration a multifaceted perspective with which we may be entirely unfamiliar."
Will Matsuda for Aperture,
Why Aren't There Any Famous Asian American Photographers?
- Mary Kang: "White men largely dominate the industry; their biases help them to maintain power. Most surviving histories are written by people in power...A lot of the images showed people of color in vulnerable positions. How does this imagery feed the people in power? When the narration is this one-sided, it does not recognize people of color as full human beings."
Viewfind on Vantage,
Behind "Prom King": On Journalism and Advocacy with Sophia Nahli Allison
- "We have to realize we're powerful enough to create change. We want people to understand why our voice and our stories are important. We have to keep treating people with kindness and realizing our work will make a difference."
Teju Cole for The NYT,
Getting Others Right
- "Telling the stories in which we are complicit outsiders has to be done with imagination and skepticism. It might require us not to give up our freedom, but to prioritize justice over freedom. It is not about taking something that belongs to someone else and making it serve you but rather about recognizing that history is brutal and unfinished and finding some way, within that recognition, to serve the dispossessed."
An Open Letter Against Sexual Harassment in the Photo Industry, PDN
- "We want to rid the industry of sexual harassment, sexual coercion, sexual assault and abusive behavior. We demand that the culture of silence and corporate policies that enable predatory behavior be changed."
Sexism in the Photo Industry, PDN
- "I want this industry to understand that the discrimination I face is different from the discrimination a white woman faces," says photographer Oriana Koren. "People have very limiting ideas of the sort of work they imagine a black womxn doing and I can tell you firsthand, being behind the camera is not one of those jobs they imagine.
︎DATABASES & AFFINITY GROUPS
Women Photograph
- Database of more than 650 independent women documentary photographers based in 91 countries.
Diversify.Photo
- Curated database of photographers of color available for assignments and commissions.
Natives Photograph
- A space to elevate the work of Indigenous visual journalists and bring balance to the way we tell stories about Indigenous people and spaces. Our mission is to support the media industry in hiring more Indigenous photographers to tell the stories of their communities and to reflect on how we tell these stories.
Brown Girls Doc Mafia
- BGDM is a collective of women (and non-binary) filmmakers and industry representatives of color. The collective builds community online and in person to further members' creative enrichment, exchange resources and ideas, and bolster professional growth and opportunity. We are the first of our kind — now boasting over 1,800 women filmmakers of color across the globe.
Reclaim Photo
- An alliance of five organizations committed to amplifying the voices of underrepresented photographers and decolonizing the photojournalism industry.
Chinese Storytellers
- Chinese Storytellers is a collective that gathers Chinese non-fiction content creators, amplifies their voices and supports their work.
POC in Audio
- This website was created by
Adizah Eghan
,
Afi Yellow-Duke
,
Zakiya Gibbons
,
Aliya Pabani
and
Phoebe Wang
, after Phoebe delivered a speech at the 2018 Third Coast International Audio Festival award ceremony, calling out the overwhelming whiteness of the industry and spotlighting POCs within it.
Equity At The Table (EATT)
- EATT is an easy-to-navigate database for food industry professionals featuring women/gender non-conforming folks with a focus POC & LGBT professionals.
Foto Féminas
- Foto Féminas is a platform promoting, through monthly online features, the work of female photographers working in Latin America and the Caribbean.
African Photojournalism Database
- The database identifies professional African photographers, photojournalists and documentary photographers reporting on cultural, economic, environmental, political and social issues on the continent, as well as sports, nature, and stories of everyday life. The database will better connect local photographers with the global media industry and offer a more diverse representation of the African continent.
Female, GNB/GNC, Trans Inclusive Photo/Film Crew List
- Founded by producer Lisa Gonzalez and artist rep Hannah Kuo. Find crew for your next photo & film jobs here!
Free The Bid
- A 501c3 non-profit initiative advocating on behalf of women directors for equal opportunities to bid on commercial jobs in the global advertising industry.
F Collective
- An initiative that asks brands + their agencies to pledge to present a female photographer option on each job, with a goal of increasing gender diversity in advertising photography.
Writers of Color
- The OG inclusivity database (created in 2014!) compiling writings of color curated by Durga Chew-Bose and Jazmine Hughes.
Women Who Draw
- An open directory of womxn and womxn identified/nonbinary illustrators across the globe.
LatinX Directors
- LatinX Directors aims to bridge studios and agencies with Latinx directors in the simplest way possible with their full, searchable website that includes film, T.V., and commercial filmmakers. Beyond wanting the studios and agencies to know they are here, they also recognize the need to build community among themselves.
Film Fatales
- Film Fatales supports an inclusive community of women feature film and television directors who meet regularly to share resources, collaborate on projects and build an environment in which to make their films.
Karen Schmeer Diversity in the Edit Room
- The Diversity in the Edit Room Program is designed to cultivate the careers of emerging assistant editors and editors from diverse backgrounds and experiences working in the documentary field.
Necia Media Collective
- We are especially passionate about connecting those of us who work in multimedia with a social justice and community-oriented lens. The great aspirations we have for Necia Media will only be brought about through the efforts of a diverse, international, diasporic network of trans and cis womxn and gender non-conforming folks of color working together to foster our dreams and skills.
Spicy Zine
- SPICY, created in February 2018, is an online zine and creative collective led by women of color (WoC) and queer + trans people of color (QTPoC). Our mission is to create a platform empowering WoC + QTPoC to create, express, debate, learn, unlearn, and ultimately decolonize the media — a space that doesn't always include us.
By Us, For Us (BUFU)
- BUFU is a collaborative living archive centered around (pan)black and (pan) Asian cultural and political relationships. We, the founders of this project, are a collective of queer, femme and non-binary, black and east-Asian artists and organizers. our goal is to facilitate a global conversation on the relationship between black and Asian diasporas, with an emphasis on building solidarity, de-centering whiteness, and resurfacing our deeply interconnected and complicated histories. we attempt to achieve this through our collaborative programming, our visual archives, and through building long-term partnerships with collectives, organizations, and individuals.
Note: We realize that some of the content shared here may come from sources with incomplete or problematic politics. We may see value in their contribution but do not believe in forwarding our cause by perpetuating oppression further. We welcome critiques that aim to build a stronger movement.